About John Hulsey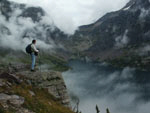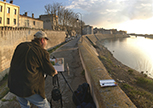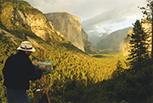 "I believe I must speak through my art, for the preservation of Nature and the natural landscape from which I take my inspiration and living."
John Hulsey is an accomplished artist, author and teacher who has been working professionally for over 48 years. He is the recipient of numerous awards and his paintings are included in many corporate and private collections: The Environmental Law Institute, Washington, DC; The Hudson River Reference Collection, Garrison, NY; The National Portrait Gallery, Smithsonian Institution, Washington, DC; The United States Embassies in Australia and Jordan; and The Albrecht- Kemper Museum of Fine Art, St. Joseph, MO.
In addition to producing new work for exhibition and teaching national and international workshops, John continues to write educational articles about painting for national art magazines and publishes the educational website, The Artist's Road. His work has been featured in Watercolor Magazine and American Artist Magazine. He has been selected as a "Master Painter of the United States" by International Artist Magazine where his work was previously chosen to be included in the top ten of their international landscape painting competition. Fine Art Connoisseur Magazine profiled him in the article "John Hulsey - Passion and Mystery". He was awarded residencies at Yosemite, Glacier and Rocky Mountain National Parks. His work is regularly featured in American Art Review Magazine.
John has produced commissioned paintings for many of the major publishers including Random House, Readers Digest, and Time Magazine, which featured his watercolor portrait of Margaret Thatcher on the cover.
Constance Berdan Sherman (artist and faculty member of a specialized branch of the State University of New York) wrote in the catalogue accompanying the exhibition,
The Forces of Nature
at the Albrecht-Kemper Museum of Art:
"After many years of living the landscape, so to speak, John has developed consummate skill in presenting its aspects on paper or canvas, and his generosity in imparting these skills in workshops and articles is widely known. Far beyond this, the scope of his gift to us in these works is difficult to describe. He seems to be not so much painting a picture for us as giving us the landscape in an almost literal sense. We are at the point of observation, not excluded by a frame nor witnesses to an event. We participate in the landscape, witnessing what we may always have known but rarely call to conscious thought. We know how those small waves break on the shore, how the sand shines and reflects for an instant, how the luster departs as the water sinks in. We have seen those patches of sunlight and shadow moving over the hills, and he reminds us that we know them. We know how those small rivers glow as they wind out in the sunset, although we may have forgotten in the traffic of living. John's paintings represent, re-present, give us back our presence in the landscape and our feeling of existing in it under the sky. This is a grand gift in all senses. We need to be reminded occasionally how the light embraces, and then moves on. There is some sort of magic in capturing the instant with this degree of perception."